Urinary Incontinence Specialist
Southeast Urogyn
Urogynecologists located in Madison, MS & Flowood, MS
Many women suffer from urinary incontinence. The doctors at Southeast Urogyn offer a variety of treatments to women from in and around Jackson, Mississippi who suffer from this condition, to help restore normal flow.
Urinary Incontinence Q & A
What Is Urinary Incontinence?
Urinary incontinence is the inability to control when the bladder releases urine. There are several different classifications of urinary incontinence, but the most common form is stress incontinence. Stress incontinence occurs when pressure from laughing, coughing, sneezing, exercising, or lifting causes a patient to leak urine unexpectedly. The next most common form is urge incontinence and this occurs when the ability to suppress the urge is overcome by the bladder and it empties. Common symptoms are constant urgency and going very frequently as well as getting up at night more than twice to empty.
What Causes Urinary Incontinence?
Pregnancy and childbirth can also lead to stress incontinence because of the strain and stretch it puts on the pelvic muscles and nerves. Obesity, chronic straining with constipation or chronic coughing can put pressure on the pelvic muscles and nerves leading to damage over time. Urge incontinence, also known as Overactive Bladder (OAB), is usually idiopathic, i.e. there is no found cause, and seems to increase with increasing age. The decreased estrogen levels associated with menopause can also affect one's ability to control her bladder and may lead to stress or urge incontinence and these frequently occur together.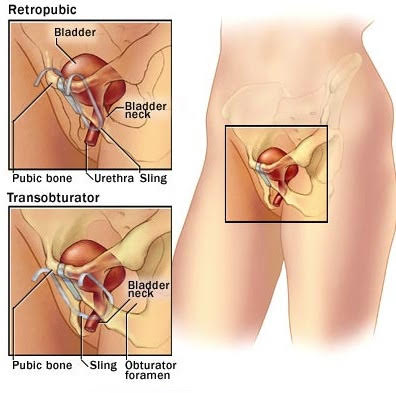 How Is Incontinence Treated?
The physicians at Southeast Urogyn offer a number of treatments including:
Non-surgical therapy always begins with scheduled voiding intervals and pelvic muscle exercises (Kegels), which help to keep the pelvic muscles strong to support urinary health.
Treatments for stress incontinence (all of these are done as outpatient same day surgery)
Minimally invasive mesh slings (tension free vaginal tape) implant a strap of material to support the urethra which helps to keep the urethra closed when a person coughs, sneezes, laughs, or exercises.
Pubovaginal sling procedures use a strip of your own fascia tissue to cradle the bladder neck and urethra.
Burch uses permanent stitches to anchor the neck of the bladder and urethra to Cooper's ligament underneath the pubic bone. Our doctors perform these laparoscopically.

Treatments for urge incontinence and overactive bladder (OAB)

Axionics® therapy is an implanted device that provides continuous neuromodulation. This is commonly referred to as a "bladder pacemaker" and is implanted on an outpatient basis.

Learn More

Botulinum toxin (Botox®) can be injected into the bladder wall (this is done in the office with no down time).
Bulkamid is a urethral bulking agent that is used to treat stress urinary incontinence. It is a soft, water-based gel that can be used to restore the natural closing of the urethra.

Learn More

OAB medications can help many women with frequency, urgency, and urge incontinence.
Percutaneous tibial nerve stimulation (PTNS) is the least invasive form of neuromodulation and is also done in the office and does not involve surgery.
If you have any questions about our treatment options, please call our office.
Insurance
Southeast Urogyn provides expert care, and wants every patient to be able to afford the checkups they need. If you have any questions about the insurance we accept, please call or office to see how we can best help you.
Words from our patients
"Southeast Urogyn is the BEST facility in Mississippi to go for any of your needs regarding menopause and Urogynecology."

"I met with Dr. Harris for the first time in August of 2015, and was immediately impressed. Please don't hesitate to make an appointment. You'll be glad you did."

"I felt no embarrassment from the initial physician's exam, the urodynamics testing by the nurse or the surgery. I could not have asked for a better doctor and staff."

"Dr. Harris explained everything in detail. He was very patient and kind. I would definitely recommend him to all my friends."

"I received a recommendation from a trusted source, and she was right on. I have and will continue to recommend Dr. Harris to all my female friends."

"Dr. Harris is extremely professional and friendly. He has given my life back to me and I will always recommend him to others."

"Top notch doctor and staff. I was tremendously satisfied with my bladder sling surgery and results. Dr. Harris is compassionate and treats you with dignity."

"I had trouble with incontinence. My internal medicine dr. referred me to Dr. Speights. I had surgery 6 weeks ago and the results are amazing."

"I highly recommend him. He is very personable, confident, and a caring physician. Besides being a great physician, he is a wonderful person."

"Dr. Speights repaired several issues that I had been troubled with for some time. I can now return to my normal daily activities without any problems."

"I felt very comfortable talking with Dr. Speights about the issues that I was having. He explained everything to me and was open for any questions that I might have."

"Dr. Speights was very helpful and kind. He explained my diagnosis and surgery to me and my husband in detail and answered all of our questions."